Plant Benches for Home Greenhouses
Plant Bench Furniture….
Need more Greenhouse shelf space
Plant bench furniture for greenhouses, stores, and home… the perfect solution. Holds up to 50% more plant material, durable and long lasting, molded product from high density UV stabilized ABS re-cycled plastic.

The product number for this is GDSsm967203 …. see prices below ..call 719 302 4264

plus freight
Note: all price's are subject to change at any time
Credit Cards are accepted…
Introducing Plant Hanger Plus, the first truly effective hanging plant bench basket system engineered for all greenhouses providing practicality, organization and convenience. Hang up to 27 baskets from each eight-foot (2.44 m) section. Full integration with a three-step wall plant bench system maximizes versatility and function. Order today and this will be the last greenhouse plant bench you'll ever buy!
Features
Durable Strong and moisture resistant, Flame Retardant, Good Impact Resistance, Good Dimensional Stability, Easy to assemble, resale value 100%… You cant go wrong with a products such as this!
Greenhouse Source and Cheaper Products
Great buys good prices, 100% customer satisfaction
Source and Products for the backyard greenhouse person who needs it right away….
Greenhouses Del Sol Inc
Plant Bench pricing

Width L to R = 96″ Depth = 39″ Overall Height: 86″
Each Shelf depth … 16″
Each Shelf height … from lowest to highest 12″ – 24″ – 36″
made from ABS recycled plastic Acrylonitrile Butadiene Styrene (ABS)
available with casters…. additional cost.. please call!
Due to size and weight, must ship common carrier.. not ups-able
Note: Freight today is exceptionally expensive, in many cases the freight almost equals the cost of one product.
Depending on where you live.
All products are shipped FOB (Freight on Board) factory to destination:
Most items are generally in stock for quick turnaround.
For lower freight rates its best to combine your order with more than one item, ask friends and or other
home horticulturalist in your area who would be interested in quality Plant Bench products that last a lifetime. Freight per item will then be drastically reduced. It cost just as much to ship one item as it does to ship 3 or 4 items.
[table caption="Plant Hanger Plus" class="table table-bordered" tablesorter="0″]
Part Numbers,Dimensions,Prices
GDSsm 367203w,39″ deep x 36″ L x 84″ h,$283.00
GDSsm 667203w,39″ deep x 66″ L x 84″h,$449.00
GDSsm 967203w,39″ deep x 96″ L x 84″h,$570.00
[/table]
^^^^^^^^^^^^^^^^^^^^^^^^^^^^^^^^^^^^^^^^^^^^^^^^^^^^^^^^^^
Single level – Plant Benches

-18″ legs – open grid surface top

*deep = front to back measurement

available with longer legs 24″, 30″, 36″ .. call and specify
solid top surface… additional cost
call and specify!
66″ and shorter units are UPS-able
96″ are common carrier…cost more to ship!


[table caption="Single level Plant Benches 18 inch height standard open grid surface top" class="table table-bordered" tablesorter="0″]
Part Numbers,Dimensions,Prices
GDSsm 361801,16″ deep x 36″ L,$35.69
GDSsm 661801,16″ deep x 66″ L,$58.64
GDSsm 961801,16″ deep x 96″ L,$71.41
24inch depth Plant Benches
GDSbm 362401,24″ deep x 36″ L,$39.98
GDSbm 482401,24″ deep x 48″L,$65.90
GDSbm 662401,24″ deep x 66″L,$76.10
GDSbm 962401,24″deep x 96″L,$80.04
36inch depth Plant Benches
GDSbm 361801S3,36″ deep x 36″L,$54.38
GDSbm 661801S3,36″ deep x 66″L,$95.28
GDSbm 961801S3,36″ deep x 96″L,$116.12
Accessories – Longer legs
GDSbmLEG24, 24″ leg height,$4.61 /ea
GDSbmLEG30, 30″ leg height,$6.29 /ea
GDSbmLEG36, 36″ leg height,$7.44 /ea

[/table]
2 step shelf Plant Bench unit 24″ overall height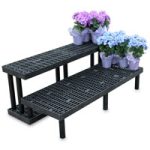 lower shelf 16″ deep – upper shelf 12″ deep
front to back depth dimension 28″
available with lower 24″ deep lower shelf – upper shelf 16″ deep
front to back depth dimension 36″
3 step Wall Plant Benches, overall height 36″ top – 24″ middle height – 12″ bottom height
[table caption="2 step – 16 inch lower shelf – 12 inch upper shelf – 24 overall height" class="table table-bordered" tablesorter="0″]
Part Numbers,Dimensions,Prices
GDSsm362402w,28″ deep x 36″ L,$91.73
GDSsm662402W,28″ deep x 66″ L,$152.89
GDSsm962402W,28″ deep x 96″ L,$183.60
2 Step -24″ lower shelf – 16″ upper shelf depth – 24″ overall height
GDSsm362402W2,36″ deep x 36″ L,$96.04
GDSsm662402W2,36″ deep x 66″ L,$160.36
GDSsm962402W2,36″ deep x 96″ L,$192.21
2 step Wall Plant Bench
GDSsm362402W,28″ deep x 36″ L,$91.73
GDSsm662402W,28″ deep x 66″ L,$152.89
GDSBbm482402W,42″ deep x 48″ L,$191.05
3 Step Wall Plant Bench
GDSsm363603W,39″ deep x 39″ L,$168.17
GDSsm663603W,39″ deep x 66″ L,$274.49
[/table]
*deep = front to back measurement
3 step Shelf Plant Bench wall unit
top – middle – bottom shelf…. are 16″ deep
front to back depth dimension…… 39″
3 step Plant Bench overall height 36″ top – 24″ middle height – 12″ bottom height
[table caption="3 step wall display" class="table table-bordered" tablesorter="0″]
Part Numbers,Dimensions,Prices
GDSsm363603W,39″ deep x 36″ L,$168.17
GDSsm663603W,39″ deep x 66″ L,$274.49
GDSsm963603W,39″ deep x 96″ L,$330.06
[/table]
*deep = front to back measurement
Note: Thanks for visiting, Hope we have provided the information your looking for…
Tagged with: greenhouse plant benches • plant benches